Ordinals, a fairly new protocol that enabled digital collectibles such as NFTs to be added to the Bitcoin blockchain (rather than simply running off Ethereum), announced on Tuesday the creation of a non-profit organization that will help fund and support the open-source development of these NFTs. 
The Open Ordinals Institute, which is a registered 501(c)(3), will collect donations in Bitcoin to kick off its mission in helping bolster the efforts of its core developers, including the recently appointed lead and anonymous Ordinals Protocol maintainer who goes by the name of "Ralph." 
The Ordinals protocol debuted in January after its programmer, Casey Rodarmor, introduced "Inscriptions" to the Bitcoin mainnet. Until now, the financial backing for the Ordinals team primarily came from Rodarmor's personal funds, supplemented by generous contributions directed to the core developers.
In May, Ordinals reached 3 million inscriptions, followed by Bitcoin's network ranking at second with the highest NFT trading volume, according to CryptoSlam.
As part of Tuesday's announcement, the team has also launched the Ordinals.org platform. This site, designed to provide updates on protocol advancements, will now feature an option for supporters to contribute donations directly to the institute via two dedicated Bitcoin wallet addresses.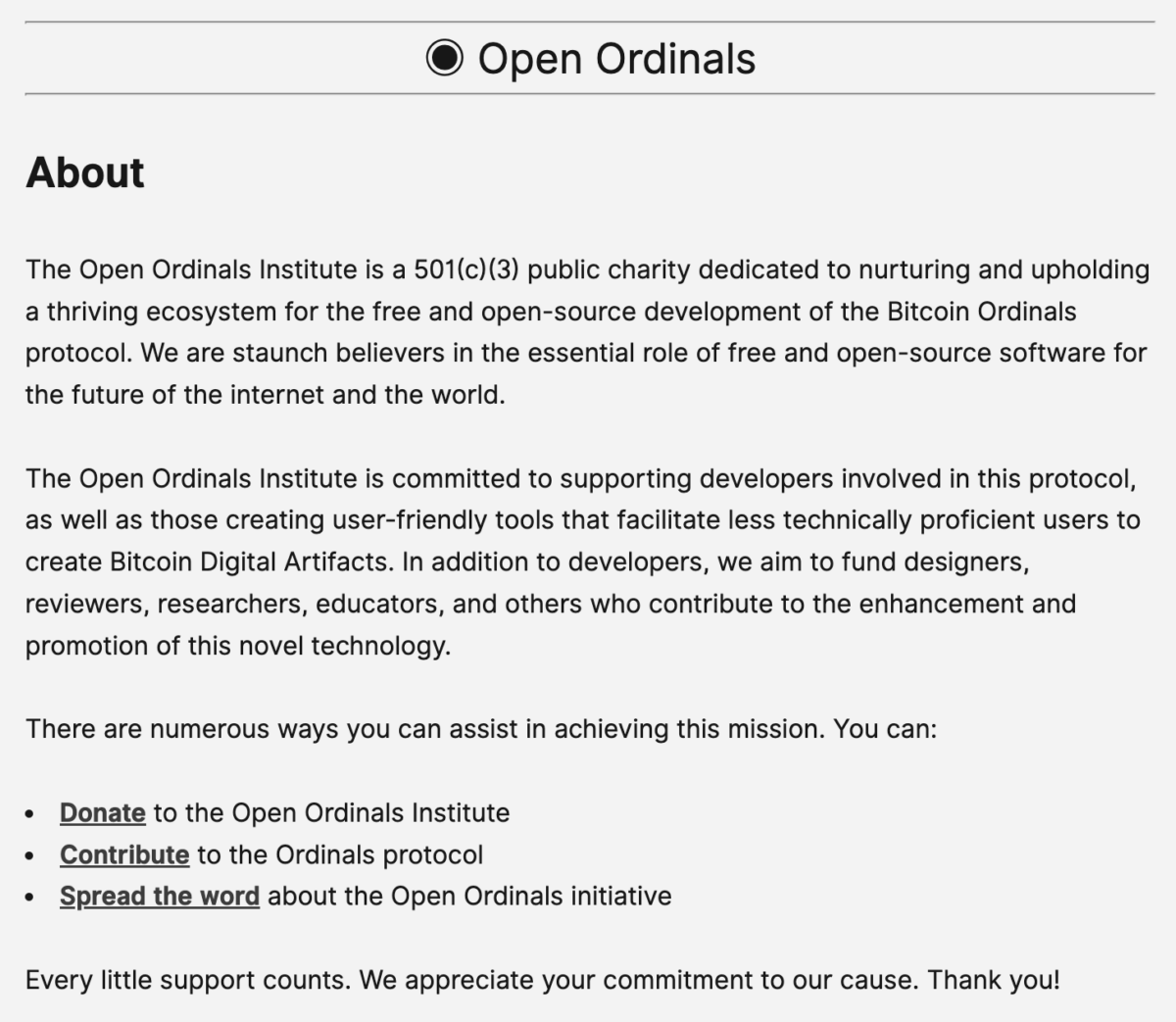 Speaking about the rationale behind the non-profit initiative, Ordinally, a core developer at Ordinals, emphasized the importance of maintaining the integrity of the protocol. In a press statement, Ordinally mentioned that the establishment of a non-profit was the "cleanest way" to fairly compensate developers without jeopardizing the protocol's foundational principles.
Erin Redwin, a board member of the Open Ordinals Institute, shared insights with CoinDesk regarding the broader vision of the non-profit, highlighting the institute's aspiration to empower developers, thereby amplifying the potential of Bitcoin-based NFTs. 
"Given Ordinals' unprecedented pace of adoption and real-world implications for various crypto-economies, we believe it is crucial to fund a strong team of non-corporate funded developers to ensure the security and neutrality of this open-source protocol," Redwin said, adding that "[c]ompanies across Web3 ecosystems – including Ethereum, Solana, Stacks, and others – are quickly building Ordinals infrastructure after previously believing NFT-functionality 'wasn't possible' on native Bitcoin."