XRP/USD keeps failing at the $0.55 area
As long as the market holds the higher lows series, the bias remains bullish
A bullish triangle's measured move points to $0.8
The cryptocurrency market is in consolidation following the strong rally since the start of the year. For example, Ripple (XRP) rallied against the US dollar in the first four months of the year as it jumped from $0.3 to almost $0.6 following the overall bullish cryptocurrency market trend.
But then, a consolidation followed. Since trading close to the $0.6 level, XRP/USD failed to make a new high for the year. In fact, it was constantly rejected by horizontal resistance.
However, this rejection, while bearish short term, also tells something different. As long as the price action keeps the series of higher lows intact, it builds energy before another try at the resistance level.
In other words, the bias remains bullish for the XRP/USD if the price is above $0.4. If the level holds, XRP/USD may be close to finishing a bullish reversal triangle with a measured move pointing to much higher levels.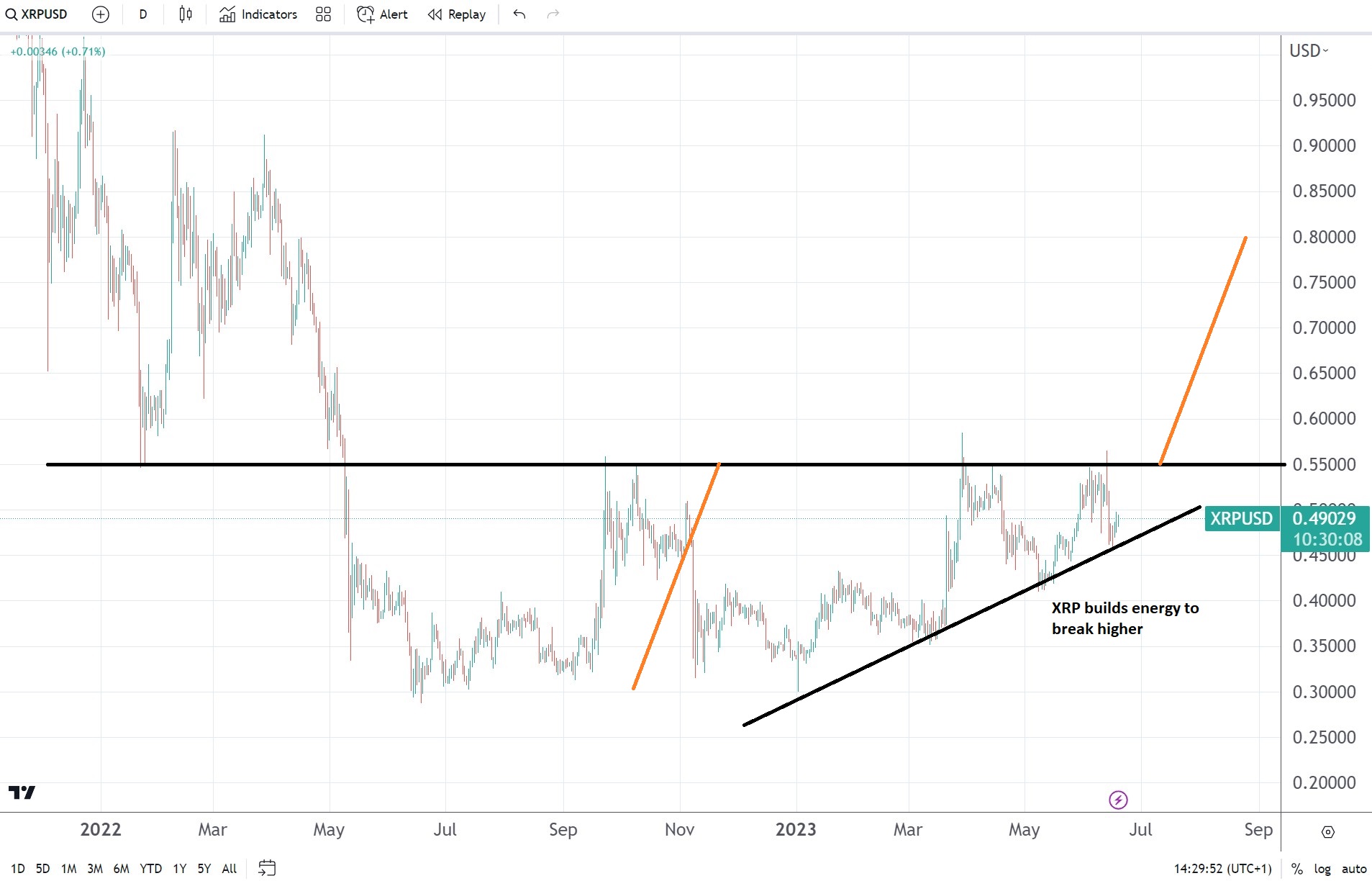 Ripple finds support at $0.3
The cryptocurrency market's bearish trend ended in the last part of 2022. In the case of XRP/USD, one can see a double bottom pattern at the $0.3 level – a bullish reversal pattern.
But that is not the only bullish sign. The fact that the market formed a series of higher highs while failing at horizontal resistance tells us that it is building energy to break higher.
More precisely, the price action resembles a bullish triangle. On a close above $0.6, the market should keep advancing toward the $0.8 area because such a triangle has a measured move equal to the length of its longest segment.